Sidewalk Signs
Sidewalk Signs are a cost-effective form of advertising that can be easily implemented and changed out when you need to update messaging, give directions, promote new products or specials and attract new customers.
We offer a variety of sign frames and stands that are portable and durable, perfect for both indoor and outdoor uses.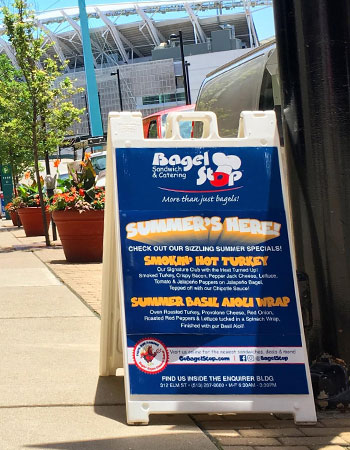 Sidewalk Signs are the perfect solution for retail stores and restaurants looking to capture foot traffic. They are cost-effective, portable, and easy to update when you want to switch out your message.
Create awareness around your retail or restaurant location and capture foot traffic with a durable and affordable Sidewalk sign from Decal Impressions.
Just a few of  the messages you can express with sidewalk or A-frame signs:
Now Hiring
Daily Specials
Featured Products
Wayfinding & Directions
Business Hours
Now Open
Holiday Sales
A-Frames
A-Frame & Sidewalk Sign Gallery