Custom 3D Signs & Dimensional Letters
Are your signs feeling a little flat? Make them pop with 3D Lettering and Customized Plaques and add a new dimension to your brand. The added depth of a custom 3D sign helps create an eye-catching effect that is not available with traditional 2D printing. A custom dimensional sign can help build logo recognition and brand impact while adding a sense of class and style to your space.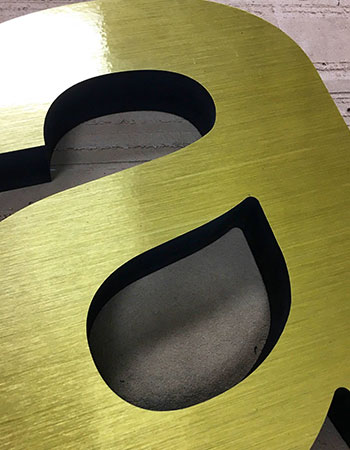 3D letters and signs deliver a high-impact presentation and can be effective in both indoor and outdoor spaces. You can add them to outdoor walls to be seen from a distance or in lobby & reception areas to add a sense of depth and space.
We offer a variety of materials to produce custom cut dimensional signs:
Wood
PVC
HDU (High-Density Urethane) 
Acrylic
Mica Laminates
Aluminum
Stainless Steel
Brass
Bronze
Cast Metals
Vacuumed Formed or Injection Molded Plastics
 ​​​​​​
We'd love to help you design and create a beautiful 3D sign or plaque that's customized just for your company. Dimensional letters and signage are a beautiful way to present your brand.
3D Lettering Gallery