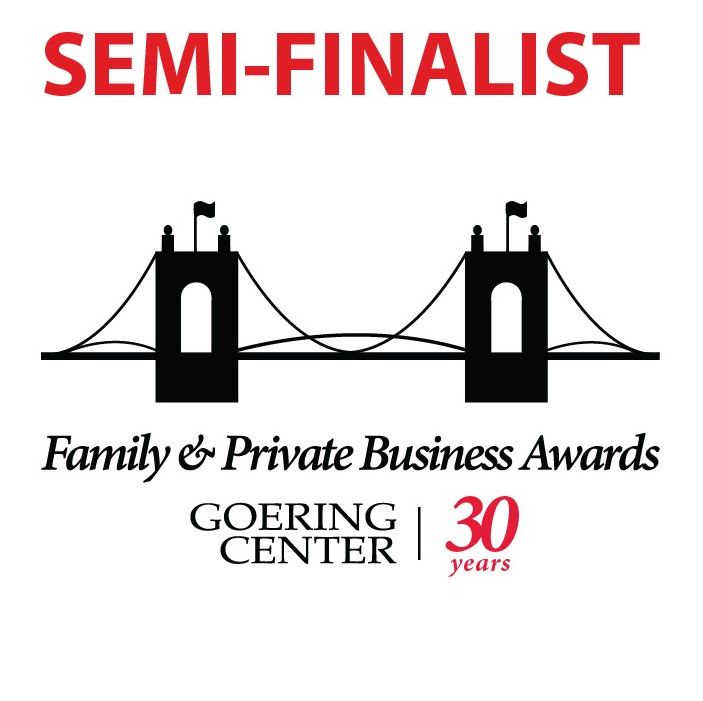 DECAL IMPRESSIONS IS ONE OF 75 FAMILY AND PRIVATE BUSINESSES TO BE RECOGNIZED AS BEST IN CLASS
  
Decal Impressions is a Semi-Finalist for the 20th Annual Goering Center Family & Private Business Awards.
 
CINCINNATI, OH JULY 25, 2019: Decal Impressions is pleased to announce their nomination as a semi-finalist in the 20th Annual Goering Center Family & Private Business Awards.  
  
"As an organization, we are excited and honored to be named a semi-finalist. As a small business, we pride ourselves on our quality of work, the quality of our clients and the quality of our employees. It is an honor to be recognized during our 50th Anniversary by the Goering Center."
- Bryan Vielhauer, President Decal Impressions
As a semi-finalist, DECAL IMPRESSIONS will be further evaluated by an independent panel of judges who will be considering the legacy, leadership and culture development that distinguishes DECAL IMPRESSIONS from other Greater Cincinnati regional businesses.
The 2019 Goering Center Family & Private Business Award winners will be announced at the awards gala this fall at the JACK Cincinnati Casino on September 10, 2019.  This annual recognition program, in its 20th year, honors Greater Cincinnati regional businesses that exemplify the best in family and private business practices.  Each year nearly 500 businesses are nominated for these awards and from those nominees, 75 semi-finalists are selected.        
Three awards will be presented in each of two divisions: family business and private business. Additionally, the 2019 Goering Center Hall of Fame winner and the Baldwin Volunteer of the Year will both be celebrated. The Goering Center will also recognize its third annual Rising Leader – one of nine emerging leaders who are shaping the future of Cincinnati businesses.
Established in 1989, the Goering Center for Family & Private Business serves more than 400 members, making it the country's largest university-based educational non-profit for family and private businesses. The Center's mission is to nurture and educate family and private businesses to drive a vibrant economy. Affiliation with the University of Cincinnati and the University of Cincinnati's Carl H. Lindner College of Business provides access to a vast resource of business programing and expertise. Through this affiliation, Goering Center members receive real-world insights that enlighten, strengthen and prolong family and private business success. 
###
Decal Impressions is a full-service Print-Service-Provider creating top of the line graphics with a focus on providing outstanding customer service. Founded in 1969, the company has grown to become a leading print service provider in the region, working with top brands throughout North America. Their products are displayed, not only across the Tri-State area but in Arenas, Retail Stores, Restaurants, Concert Venues, Festivals, and College Campuses throughout North America. With strong values in customer service, continually investing in state-of-the-art technology, a focus on internal development, and long-term employee retention, Decal Impressions is able to continually provide their clients with quality customer service and industry-leading products.