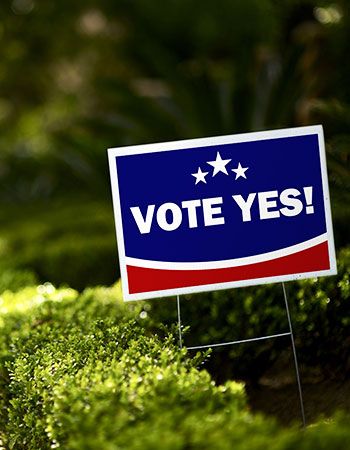 You have probably noticed them all over town, often at popular intersections promoting a local business or restaurant, perhaps in front yards promoting everything from candidates and ballot issues to general contractors and fundraisers. Yard signs are a popular, affordable and effective marketing tool used for a plethora of different causes and industries.
Affordability
Utilizing inexpensive and durable coroplast (corrugated plastic), yard signs are one of the most cost-effective marketing solutions available. Our digital printing capabilities also allow for you to print in full CMYK color on both sides, increasing your message's visibility and your return on investment.
Durable
Coroplast is not only affordable, but durable. Able to withstand inclement weather, these signs can be left outdoors for extended periods of time and still hold up.
Easy to Install
The ease of installation makes these very popular for organizations with volunteers or on a time constraint. Signs can quickly and easily be installed. Bigger signs may require a pole, but are still relatively simple to install. If you have questions, ask one of our team members and they will help steer you in the right direction.
Spread the Word
Due to the affordable and lightweight nature of yard signs, you can be flexible and strategic with your sign placement. A small investment in yard signs can allow you to canvass an entire community. This truly allows you to successfully and effectively promote your business or organization.
Custom Sizes
Traditional yard signs are printed as 24"x18", to increase yield and help you get the most bang for your buck. However, sometimes a custom size or shape is needed to market your product. We can produce any size or shape up to 4'x8'.
If you're interested in learning more or finding out pricing, give us a call at 513-721-3801 fill out our contact form here.
Click here for some Yard Sign design tips!