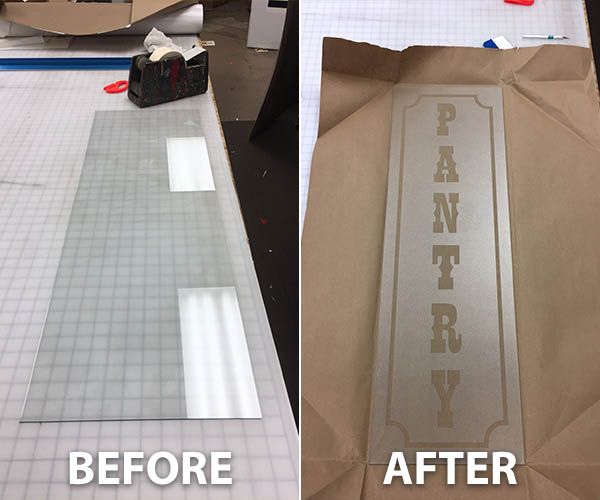 GLASS ETCHING
Etched or "frosted" glass is an effect applied to glass surfaces, turning the glass almost opaque, diffusing the light as it passes through blurring images on the other side.
Developed during the Victorian era, glass etching or "French Embossing", was used to create texture and patterns on windows and doors. The original techniques used acid and other caustic and harmful chemicals, to slowly remove some of the silica from the glass. By doing this artisans were able to create very complex and intricate patterns, and develop different tones.
The use of frosted glass is great for creating visual privacy while still allowing light to pass through. This lends itself to be very useful in offices or entry ways. Nowadays we use different vinyls to create this effect on glass doors and windows. It is much more cost effective, and still visually appealing. We are even able to print text and logos on the vinyl for additional colors. This lends itself great for office, retail spaces or restaurants that want to create an air of visual privacy, but not lose any natural light. These vinyl materials are also much safer to use than the corrosive chemicals.
Here are a few images demonstrating how we apply the frosted graphics to create the desired affect.
Here we have a blank piece of glass, without any vinyl
The design has been cut into the vinyl, masked and then applied to the blank piece of glass
Once the design has been applied to the glass we carefully remove the premask to reveal the design!
Here you can see the finished product. Notice how the light can still be seen through the frosted areas of the glass
Click here to view our gallery with some great examples of our etched glass and frosted glass vinyls and other wall window and floor graphics.