Campaign & Yard Signs
It does not matter what you want to call them: political signs, yard signs, screen, bandit signs, plastic signs or "those signs that stick on wires that you put in the ground" signs, our corrugated plastic signs have long lasting durability and offer an excellent advertising value.
Decal Impressions has become the "goto" printer for political campaigns across the country. From vote yes to vote no, for political candidates or propositions, we make campaign & yard signs that make a statement. We know that when you're running a campaign, every dollar counts. Our experts will work with you to create the sign/campaign package that gives you the best ROI possible.
We print with a standard high quality OPAQUE White 4mm Coroplast. Other materials are available. Just ask. All of our signs are printed with the most eco-friendly latex ink.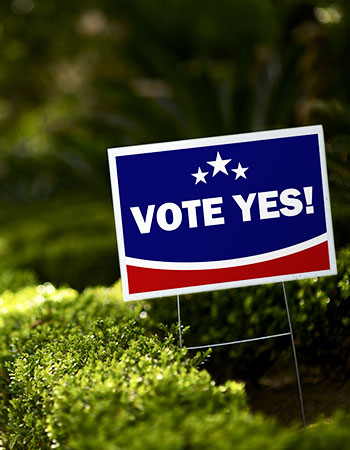 Click here to find out some of our design tips for yard signs.
Click here to learn about the benefits of yard signs.